Elke Rehder – Art & Chess
Deutsch English Espa˝ol Franšais

Chess_Home Artworks Paintings Oil_Paintings Woodcuts Etchings Drawings Charcoal Reflections Literature Postcards Chess_Books Chess_History Chess_Pieces Biography Impressum
Chess in the Arts and Literature
a click on an image will link you to the appropriate site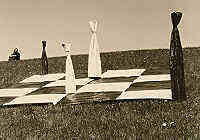 installation art, land art, iron sculptures, paper art objects, artists' books, serigraphs (silkscreen prints), lithographs etc.
paintings in mixed media on paper like for example the two kings in a draw.
Oil paintings - large paintings in acrylics and in oil on canvas.
Woodcuts - graphic printmaking and single-sheet prints in small editions, numbered and signed by the artist.
Etchings - graphic art in various techniques. The limited graphic editions are numbered and signed by the artist.
Drawings - pen and ink drawings in mixed media with watercolor.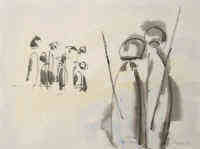 Charcoal drawings and drawings in mixed media.
Chess Reflections - Life is like a chess game. Analogies and parallels to the game of chess.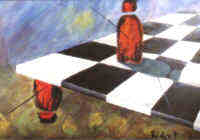 Chess in Literature - "The Royal Game" or Chess Story by Stefan Zweig, the opera by Cristˇbal Halffter and the symbolism in the short story "Chess" by Slawomir Mrozek.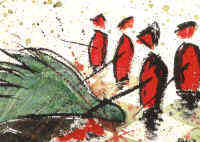 Chess Postcards and Posters - a collection of art postcards and art posters on the topic chess.
Chess Books - a short chess book bibliography and a special collection of chess books and artists books on chess.
Chess pieces in international languages. Translation of chess pieces names for long distance chess games.
About the artist Elke Rehder. Biography, exhibitions, collections and bibliography.