Chess Paper Art Objects by the German artist Elke Rehder
back to Chess Art
Chess Paper Art Objects by Elke Rehder
Handmade Paper Art on the topic Chess
A click on a picture will open a larger size in a new window
Chessboard - Stamped relief on handmade paper pulp
Chessboard with Chessmen -Stamped relief on handmade paper pulp
Chessboard - handmade paper pulp mixed with color pigments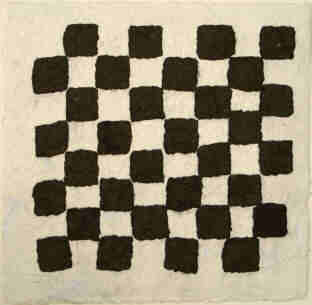 Chessboard - handmade paper pulp mixed with charcoal pigments
Christian Morgenstern Poem The Great Lalula (Das grosse Lalula)

Cassette with three Paper Art objects by Elke Rehder
Cassette with 3 signed original paper objects (hand-made paper with inlaid rusty iron wire) and 5 text pages. The three paper objects are individually mounted on cardboard. 2009. Format of the Cassette 49 x 38 cm. Format of the paper objects 45 x 34 cm.
The Great Lalula (in the German original text)
Kroklokwafzi? Semmemmemi!
Seiokrontro - prafriplo:
Bifzi, bafzi; hulalemmi:
quasti bast bo...
Lalu lalu lalu lalu la!

Hontraruru miromente
zasku zes rü rü?
Entepente, Leiolente
klekwapufzi lü?
Lalu lalu lalu lalu la!

Simarar kos malzipempu
silzuzankunkrei (;)!
Marjomar dos: Quempu Lempu
Siri Suri Sei []
Lalu lalu lalu lalu la!
Here you can listen to the text of the poem beautifully spoken on YouTube by adr zanzarra

Here you can see an artistic video about the game of chess with the ballet and music by STROMBOLI - Veliké lalula
paper art object 1 to the Lalula poem by Christian Morgenstern, hand-made paper with inlaid rusty iron wire
paper art object 2 to the Lalula poem by Christian Morgenstern, hand-made paper with inlaid rusty iron wire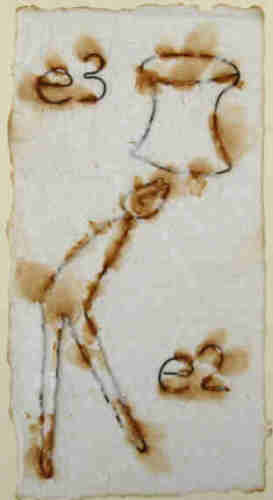 paper art object 3 to the Lalula poem by Christian Morgenstern, hand-made paper with inlaid rusty iron wire

Please also visit my homepage www.elke-rehder.de
back to Chess Art