Chess Sculptures by the German artist Elke Rehder
back to Chess Art
Chess Sculptures by Elke Rehder
Heavy Sculptures from Iron and Steel and small Chess Pieces
A click on a picture will open a larger size in a new window
Elke Rehder in her studio in 1989.
Elke Rehder forged copper sheet metal on the anvil for the chess crown of the king.
Elke Rehder in dealing with a character part to the "Chess King"
(note, my work shoes!)
I've converted my work shoes into "Chess-Shoes".
The chess-shoe-object is now in the Museum SONS Kruishoutem in Belgium.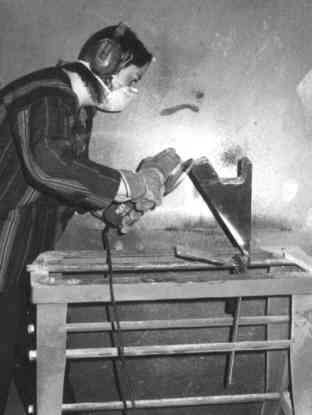 Elke Rehder when grinding Chess Pawns
Two Pawns (up and down), each 40 cm high and 20 kilos. Sculptures by Elke Rehder.
The figure of the bishop, solid steel, 70 cm high and 51 kilos. Sculpture by Elke Rehder.
The figure of the knight, solid steel, 80 cm high and 50 kilos. Sculpture by Elke Rehder.
I produced a chess set made of solid copper for an exhibition at a gallery in Berlin in 1992. The pieces have a height of 6 to 12 cm and are placed on a chessboard made of ceramic.
Chess pieces of copper on a ceramic chessboard by the artist Elke Rehder.
Photos from my sculpture studio can be found here: work shop
Also in 1992 I produced a series of wax figures on ceramic plates for a gallery in London. The wax figures were later casted as bronzes (lost-wax casting). I developed the photographs as "vintage prints" in a large format at my own photo lab. My numbered and signed photographs are sold.
Two pawns fighting (fencers) , 1992, format 45 x 60 cm, black and white photography.
vintage print numbered and signed by Elke Rehder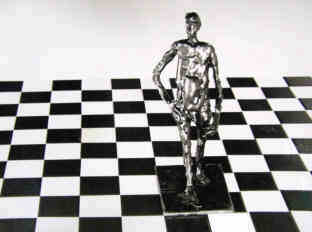 The Man in Chess , 1992, format 45 x 60 cm, black and white photography.
vintage print numbered and signed by Elke Rehder
More pictures of bronzes you'll find here on my German website Bronzen

Please also visit my homepage www.elke-rehder.de
back to Chess Art