Elke Rehder – Art & Chess
Deutsch English Español Français

Chess_Home Artworks Paintings Oil_Paintings Woodcuts Etchings Drawings Charcoal Reflections Literature Postcards Chess_Books Chess_History Chess_Pieces Biography Impressum
Art in Chess and Chess in the Arts
Elke Rehder is a trained artist and active member of a number of international art and culture associations. She was born in 1953 in Hamburg, Germany. Since 1983 she had several single exhibitions in Germany and other European countries and also obtained four art awards for her work. Elke Rehder's art exhibitions show a wide range of different art work. Because of her extensive education she experimented with several different techniques.
The Game of chess has been a dominant subject in Elke Rehder's work for many years. The artist is fascinated by chess not only as a game but as a traditional fight in ritual form with all its strategy, tactics, hierarchy and symbols. If one thinks about these aspects of chess there are many different points of view. It is the outlook of an artist and not a chess players sportive view.
Her art on chess allows expression of what words and arguments often are unable to convey. With an inexhaustible palette of views and experiences she is able to stimulate not only chess players; she likes to emphasize what people generally will not recognize in a game. Here you can have a look into her studio: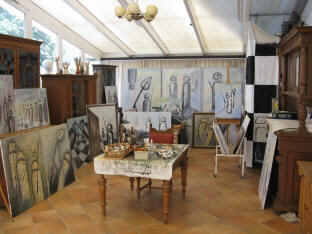 art on chess - a look into the studio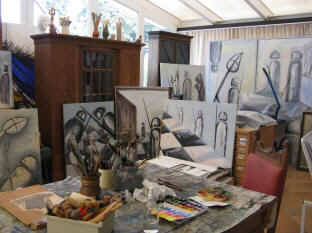 chess and art by the artist Elke Rehder
Chess Room Installation Art - Paper Art Hamburg
Installation Art - Elke Rehder uses sculptural materials and other media to modify a particular space. Her art is not necessarily confined to gallery spaces. Elke Rehder has also made room installations in the castle of Reinbek, the Federal Academy of Cultural Education in Wolfenbüttel and the Federal Ministry for Economics in Bonn more information
Land Art Chess in the Mudflat of the North Sea
Land Art - Some installations in the North Sea, in the city of Cuxhaven and on the banks of the river Elbe more information
Chessboard - Handmade Paper Art Object
Paper Art Objects - Several paper art objects where created by Elke Rehder and also some on chess. A good example for this are the four different chessboards of handmade paper more information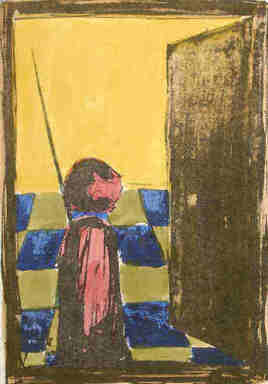 Chess Lithograph - The Opening
Lithography - The Lithography is a printing process in which Elke Rehder uses a stone with a completely smooth surface. Elke Rehder uses this technique not only to illustrate her artists' books, but also for her graphic prints, such as "Chess - The Opening" and "Chess - Three Pawns" more information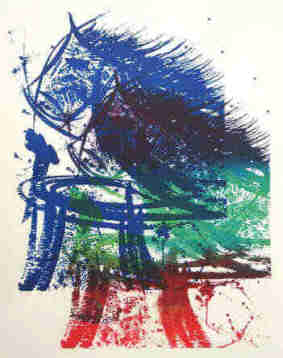 Chess Serigraph - Knight takes rook variant
Serigraphy - This printmaking is also known as screen printing or silkscreen. Elke Rehder used this printing technique from 1990 to 1999 for her colorful large posters like "Blue Dancer Chess" or the chess prints "Knight takes Rook" more information
Chess - The Knight - Sculpture by Elke Rehder
Sculptures - Until 1995 Elke Rehder also worked with heavy materials like iron, steel, copper, marble and granite stone. Some of their heavy sculptures became part of their installations in the 90s more information
Artists' Books on Chess by Elke Rehder
Artists' Books on Chess - Since 1993 Elke Rehder is publishing artists' books and small press books in limited edition. The books are illustrated with original etchings, woodcuts and lithographs. Her works are collected by numerous libraries and museums. Collectors of rare books from all over the world pursue their new publications with interest. More artists' books you'll find on the homepage artists' books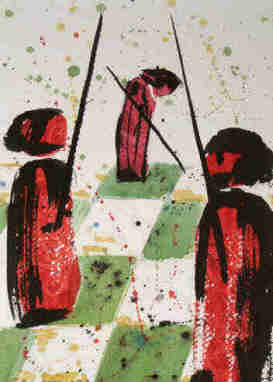 Chess Painting - Backward Pawn
Mixed media on paper - Watercolor is a medium which Elke Rehder sometimes uses in combination with pastel and charcoal drawing. This technique is often specified as "Mixed Media". Many of her chess paintings are made in this technique. Please move to the button Paintings
Chess Oil Painting - Pawns Threaten the King
Oil and acrylic paintings - In her paintings and graphic work chessmen often appear. Once she observed an open air game of chess in a park with people standing on the chequered squares. That was the moment Elke Rehder obtained the impulse of looking behind what was happening. She compares the situation of the chessmen, their position on the chess board and their strategic action with our everyday life. Elke Rehder's chessmen become independent and play their own game.
The chess-players each side of the board are not the topic of her art. This explains her relation to the short story of Slawomir Mrozek about living chess. In his story the chessmen play their own game without the players. Like the figures in Elke Rehder's pictures do. So she made an artist's book about the story.
For oil paintings, the artist uses pigment-rich colors and high-quality screens. Elke Rehder uses fast-drying acrylic paint for her large paintings, for example for the about 3 meters high chess painting "Pawns forward and never back." For more pictures please move to the button Oil Paintings
Chess Woodcut - The Chess Game
Woodcut - Formerly known as Xylography - is a relief printing, a technique in which an image is carved into the surface of a wooden plate. Since the founding of the edition ELKE REHDER PRESSE in 1993 the artist uses letterpress printing and woodcuts for the illustration of her small press prints. For more pictures please move to the button Woodcuts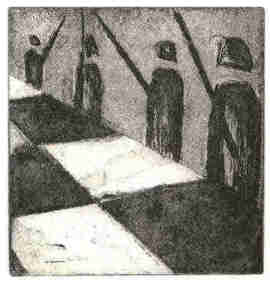 Chess Etching - Front of Pawns
Etching - With a strong acid or a hard needle (drypoint, etching) a metal surface is processed. This intaglio method is the most important technology for Elke Rehder. For more pictures please move to the button Etchings
Chess Drawing - Two Pawns Fighting
Pen and ink drawing - Elke Rehder created many chess drawings mixed with watercolors. For further pictures please move to the button Drawings
Chess Charcoal Drawing - The Fight III
Charcoal drawing - The charcoal drawings by Elke Rehder are mostly mixed with watercolors. More drawings you'll find under the button Charcoal Drawings
ExpoChess in Vitoria-Gasteiz and in Azkoitia
The ExpoChess art exhibition took place from July 24 to August 16, 2015 in the Basque capital Vitoria-Gasteiz. The exhibition was accompanied by two conferences hosted by the chess expert Leontxo García. Together with the Spanish artist Mikel Garate http://www.mikelgarate.com I showed a selection of our artworks on chess. Here is the ExpoChess website www.expochess.org


"Ajedrez bailarin doble" mixed media (silkscreen and acrylic paint) by the artist Elke Rehder
On November 29, 2014 in celebration of the art exhibition at the festival EXPOCHESS in the Basque town of Azkoitia. From left to right: José M. Sierra (director EXPOCHESS), Miguel Angel Muela (President of the Basque Chess Federation) and Jon Redondo Lertxundi (Director of Youth and Sports, Education, Language Policy and Culture of the Basque Government). The photos show some of my woodcuts and lithographs at the Expochess art exhibition 2014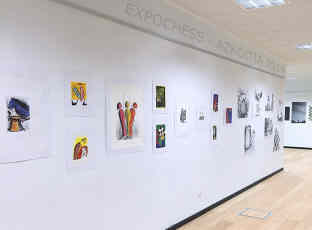 Jean Guélis - The game of chess in ballet and music
My involvement in the production of video "Échec et Mat - Checkmate - Ballet in seven parts" by Alain Guélis. Choreography by Jean Guélis. Music Alain Guélis Please watch the video and listen to the music, about 34 minutes on You Tube


echec-mat-ballet-jean-guelis.pdf
Michael Denard principal dancer at the Opera in Paris (the player) and Beatrice Pereira (the Black Queen). Sets by Roberto Rosello. Masks by Jean Barthet. Recording "live" at the theater of Neuilly sur Seine, in May 1990. Courtesy of Elke Rehder for her paintings, drawings and woodcuts and etchings on chess. Other illustrations by Hieronymus Bosch and Alain Guélis. Tribute to Jean Guélis, star dancer of the Paris Opera, the Metropolitan Opera of New York, and choreographer.
"Échec et Mat" - Checkmate - is the story of a player, a chess champion, who lives in an almost obsessive passion for this game, and ends gradually to identify in the world of chess, in a dream of living chess with human pieces; allied with the white pieces, he must fight against the dark queen and her army, but he falls in love with the fascinating black queen. Then he fights successfully against an automat sent by the black queen, but the final battle against the black pieces will be his defeat. He finds himself proclaimed king white, but in fact he's a fictitious king in the pay of the black queen. This is a trap, because to finally complete his dreamlike delirium, he'll be statuated by the black queen as white king for eternity.
Alain Guélis received 1978 the first prize in piano at the Conservatoire National Superieur de Musique de Boulogne and got his graduate degree Orchestration at the Conservatoire National Supérieur de Paris in the class of Marius Constant. He successively composes instrumental works including a piano Sonata premiered in Paris at the Theatre des Champs Elysees and Tokyo, many piano pieces, music for the American Dance Ensemble in Pittsburgh and for the Ballets Noirs de Paris. He managed the electro arrangements for two operas by Marcel Landowski, composed a concert piece for violin and piano for Anne Sophie Mutter and in 2007 "Heartbeats" at the Auditorium du Louvre for the violin-artist Akiko Yamada.
Jean Guélis and "Ballet Noirs de Paris"
The Ballet Noirs de Paris was a ballet company founded by choreographer Jean Guélis 1923 - 1991. Jean Guélis was a famous ballet dancer of the Paris Opera. He made an international career, particularly in the USA, where he was principal dancer of the Metropolitan Opera in New York and he was compared to Vaslav Nijinsky. He also had a great career as a choreographer for contemporary jazz dance. He made the choreography for TV shows for Yves Montand, Henri Salvador, Serge Gainsbourg, Gilbert Becaud, Charles Aznavour, Georges Brassens etc. His son Alain Guélis composed the music for "Échec et Mat" - Checkmate - 7 sins and 7 dancers" (Based on the theme of the seven deadly sins).

Please also visit my homepage www.elke-rehder.de